Fresh-Aire UV APCO-X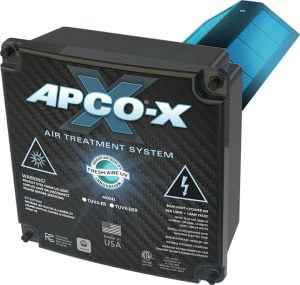 Introducing our most advanced whole-house air treatment system yet. APCO-X is the result of ten years of APCO development. It will revolutionize indoor air quality with significantly improved performance, functionality, and reliability.
33% more effective than previous model in laboratory tests
V-Twin element with over 65% more effective carbon surface area
EverCarbon™ cells with proprietary antimicrobial nanotechnology
3 year UV-C lamp
LED status and lamp fault indicator
Translucent polycarbonate housing
Face-plate rotates for vertical or horizontal installation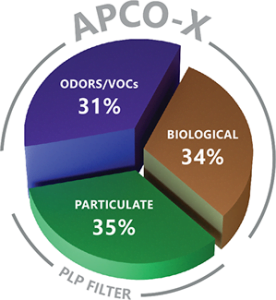 The Other Two Thirds
APCO-X combines UV-C light and our proprietary EverCarbon™ cells to safely reduce odor-causing VOCs and biological contaminants. For the remaining third (particulates) consider adding a Fresh-Aire UV Purity Low Profile polarized HVAC filter.
Complete IAQ Solution
APCO-X or APCO-X Dual (which includes a second UV-C light for coil disinfection) can be combined with our Purity Low Profile polarized electronic filter system for a complete and comprehensive indoor air quality solution.
VOC Chemical vapors and odors
Mold, bacteria, viruses, and allergens
Particulates, dust, pet dander, spores, dust mites etc.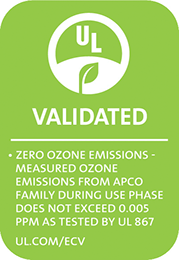 Validated Ozone Free
Fresh-Aire UV APCO is the first UV/PCO based air purification product line to achieve the UL environmental claim validation (UL-2998) which identifies air purification systems that emits zero ozone. They are then listed in the UL SPOT database of sustainable products
Clean Coils
APCO-X Dual includes a second UV-C light for additional HVAC coil disinfection.
Nu-Calgon iWave-R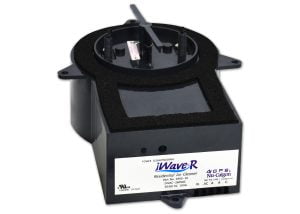 With technology installed in over 200,000 applications, iWave-R is the world's first self-cleaning, no maintenance needlepoint bi-polar ionization generator designed specifically for treating air in residential duct A/C systems. As the air flows past the iWave-R, positive and negative ions actively purify the supply air, killing mold, bacteria and viruses in the coil and living space. The ionization process also reduces allergens, smoke and static electricity, as well as controlling odors (cooking, pet, VOCs) and other particles (no more sunbeams) in the air without creating ozone or any harmful byproducts.
Patented self-cleaning design ensures ongoing peak performance
Needlepoint ionization actively treats air in the living space
For duct systems up to 6 tons (2400 CFM)
Easily installs in minutes in A/C system
Universal voltage input – 24VAC to 240VAC!
Universal mounting with magnets
OEM Approved
iWave-R treats the air in any brand of residential duct air conditioning systems up to 6 tons (2400 CFM) in size with no maintenance and no replacement parts. Designed for universal mounting, the iWave-R is easy to install inside or outside of duct, or can be attached magnetically near the indoor fan in the air handler. Simply connect to power using its patented voltage input capability. Install between air filter and cooling coil to treat the indoor coil; as an alternative, the iWave-R can be installed in the supply air. iWave-R always works at peak performance, producing over 160 million ions/cc per polarity (320 million total ions/cc), more than any other ionizer product on the market. Its patent-pending self-cleaning design includes a programmable cleaning cycle that can clean the emitter brushes every 1, 3, 5 or 10 days. The iWave-R is factory set to clean every third day which is adequate for a typical installation. iWave-R does not create "black walls" as negative-only ionizer products will do.
Three Year Limited Warranty
Nu-Calgon offers a three year limited warranty on iWave products. For a valid warranty claim within three years, proof of purchase and proof of installation by a licensed HVAC or Electrical contractor must be provided. See full warranty at iwaveair.com for complete details.
Disclaimer
The use of this technology is not intended to take the place of reasonable precautions to prevent the transmission of pathogens. It is important to comply with all applicable public health laws and guidelines issued by federal, state, and local governments and health authorities as well as official guidance published by the Centers for Disease Control and Prevention (CDC), including but not limited to social distancing, hand hygiene, cough etiquette, and the use of face masks.