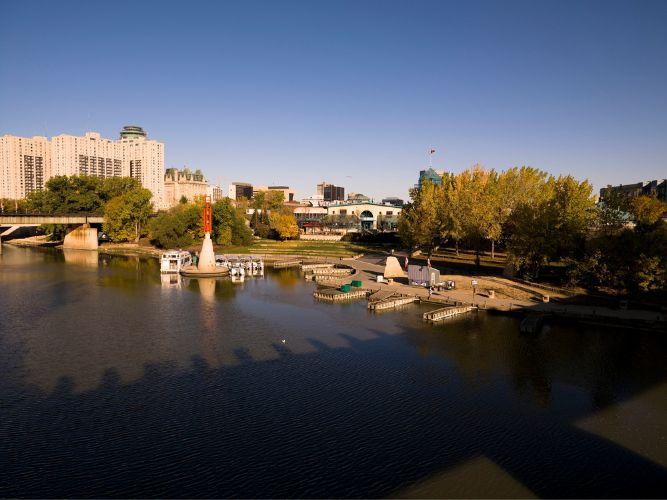 Winnipeg may be affectionately (or not so affectionately) known across Canada as "Winterpeg", but if you live here you know the winters are old news.  Winnipeggers are a resilient bunch, bundled in our toques and scarves for half the year.  The cold doesn't really phase us all that much.
But what a lot of people don't realize is that Winnipeg also has extreme summers. When you think about it, our annual climate fluctuates from well below -30℃ at the coldest to above 30℃ at the warmest. This massive range of more than 60 degrees is unusual…and, yeah, pretty intense.
The Winnipeg Dilemma
Winnipeggers tend to wear our winter tolerance like a badge of honour and believe that summer temperatures are a piece of cake in comparison. There may be those among us who even feel some sense of guilt if they don't joyfully bask in the heat after surviving the long winter months.
But the truth is that Winnipeg's summers are really, truly hot. Uncomfortably hot. And they're not going to get more moderate any time soon. In fact, recent research from Ryerson University projects that, by the second half of this century, Winnipeg will see decreased winter temperatures but soaring summer temperatures with a notable increase in sweltering daily highs above 30℃.
Climate change aside, any day spent in an uncomfortably hot environment is one day too many. Enjoy the heat, sure. Go to the park, the beach, the zoo. But keep your home or business as a comfortable haven to return to.
In winter, this means keeping your furnace and heating in good condition. In summer, it can only mean one thing: Air conditioning.
Yes, two simple words that can make your life so much better. And when you're hot and want an air-conditioned refuge, you'll be in good hands with Provincial Heating & Cooling Inc., an experienced local company with a well-earned reputation for honesty, reliability, and expertise.
Air Conditioning Experts
Whether you're looking to install state-of-the-art air conditioning in your home or want to properly maintain or repair your existing set-up, Provincial Heating in Winnipeg has you covered.
Their reputation for excellence has made Provincial Heating & Cooling Inc. a trusted Carrier Factory Authorized Dealer, meaning that they consistently live up to exacting standards and criteria. Carrier air conditioning systems are industry-leading and represent unprecedented value. They include features such as zoning, Wi-Fi compatibility, energy tracking, maintenance alerts, and adaptable speed technologies.
Provincial's NATE-certified technicians also guarantee that you're in the best of hands when it comes to repairs and maintenance.  With 24-hour emergency service 365 days a year, they are always available and ready to serve you.

Don't let the pleasant spring daytime highs that are (finally) here fool you.  Hot temperatures are not far behind.  And, if you can't handle the heat, you're not alone,  even amongst Winnipegers.  So, get your home air-conditioned now.  Call Provincial Heating & Cooling Inc. today!