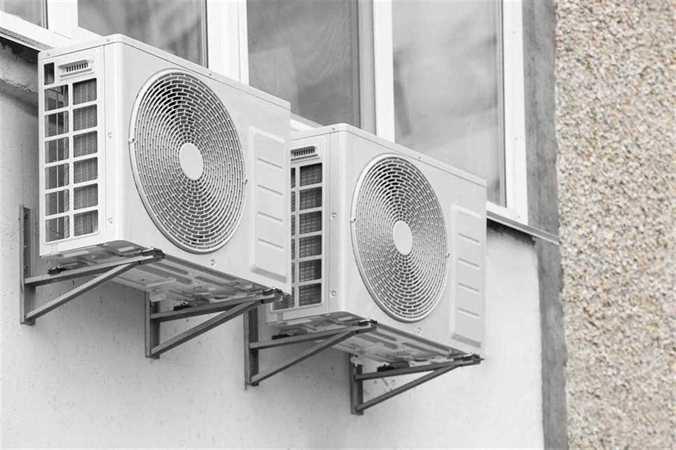 Summer is here, and so is the heat. With many people house-bound due to COVID-19, it's more important than ever to keep your home cool. Not everyone can afford to install air conditioning, but we have good news: there's a less-expensive solution for your heat problem. When choosing how to cool down your home, making an informed choice will ensure that you're happy with the outcome. A ductless air conditioner is one way to handle the summer heat. Cool, quiet, and efficient – it sounds like the perfect AC system. So what is a ductless air conditioner, and is it right for you?
Ductless air conditioners are a fraction of the cost of central air conditioning. How does it differ from central air? The "ductless" part of these units means that you don't need to rip down walls to put ductwork in your home. Instead, the unit is installed outdoors. It processes the outside air and converts it to cool air, then blows it throughout your house. A cooling unit is installed in each room by the ceiling. Then, refrigerated air is pumped through the units and into the rooms, which quickly cools off the house. This system is what makes ductless air conditioners so efficient – they don't waste energy creating heat. Instead, they use heat from the outside air. It's estimated that ductless air conditioners save people up to 30% on utility bills. Central air conditioning is more expensive to install and maintain than ductless air conditioning.
Another way to cool down your house is with a geothermal system, but these are significantly more expensive than ductless air conditioners. Installing a geothermal system requires excavating the ground. They save more energy than ductless systems, but at a much steeper cost. For those looking to be energy-efficient and save money, ductless air conditioners are the way to go. The cooling capacity of the unit is controlled by inverter technology, which adjusts the temperature of your house based on changes to the air outside. This technology is what makes ductless air conditioners so efficient – they never cool your house too much or too little. The temperature is controlled by the unit, which adapts depending on how hot or cold it is outside. Energy-efficient means cost-efficient, too. If you're looking for a green solution, ductless air conditioners are a great option. Cooling your house with one of these units is better for the environment and your wallet. 
The next step in deciding whether or not to purchase a ductless air conditioner is to determine if it will be a single zone or multiple-zone system. One advantage of multi-zone systems is that they let you customize the temperature in each room. Single zone systems will still cool your home, but they don't allow for different temperature zones. If your family has different opinions about what temperature is comfortable, a multi-zone system may be right for you. It will make both cold and hot sleepers happy. However, if you don't need to worry that, a single zone system will do the job.
Once the unit is installed, a remote control is used to change the temperature. Cool air is at your fingertips with the touch of a button – some units can even be operated by smartphones. Remote-controlled air conditioning means that rooms you aren't using can be shut off, which creates even more savings on your utility bill. The temperature is easy to adjust and takes effect quickly.  This convenient and flexible system is another advantage to ductless air conditioners.
Imagine an air conditioning system that doesn't involve ripping apart your walls or excavating the ground. Ductless air conditioners can withstand the hottest summer heat. You won't have to break your budget to install this cooling system, and you'll save money on your utility bill, too. Multiple-zone systems keep everyone in your home happy with custom temperatures for each room. This summer, consider installing a ductless air conditioner to solve your heat problems.
Looking to install a ductless air conditioner in your home? Contact Provincial Heating and Cooling – we are experienced with these units, and ready to help you with the installation. We are professional AC contractors in Winnipeg who can help keep your home perfectly cool this summer.